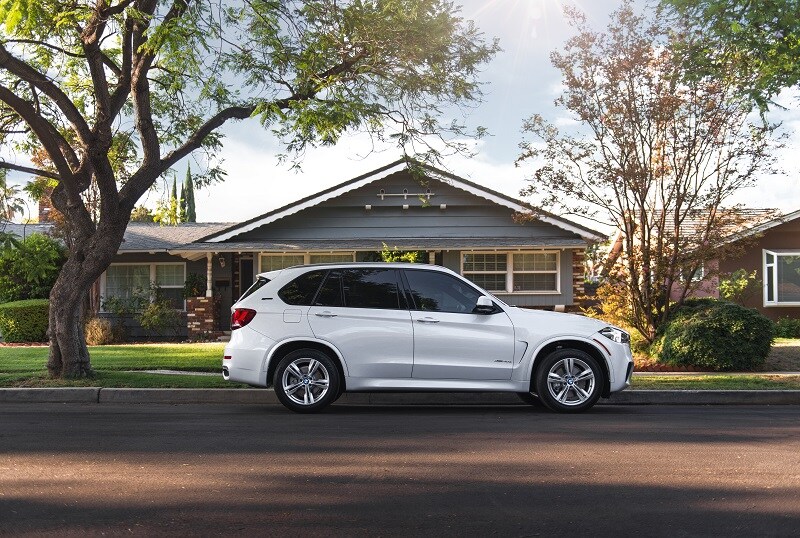 The all-new 2018 BMW X5 has everything a driver could be searching for and features that the BMW connoisseur and newcomers alike will enjoy. It is currently the largest crossover SAV in BMW's lineup and showcases the luxury, versatility, and agility you desire in your vehicle.
X5 Interior
Whether you're hitting the road searching for adventure, or you're headed to a family member's home, you and your passengers deserve to be comfortable every step of the way. The spacious interior of the 2018 BMW X5 could be considered paradise for many passengers, especially with the optional Comfort Rear Seats which allow the passenger to recline their seat and adds up to 3" of additional legroom! BMW didn't forget about the front seats, these are equipped with a multi-contour design and 20 different power adjustments. There is also an option to add a third row; which would be equipped with its own climate control. While some vehicles try to offer the same level of comfort, it often means giving up cargo space – not the case for the X5! The 2018 BMW X5 offers 35.8 cubic feet of cargo space which extends to 76.7 cubic feet with the rear seats folded down.
xDrive
BMW's intelligent AWD system, xDrive, gives the X5 the traction, handling, and stability you deserve while hitting the open road and facing rough terrain. xDrive distributes power between the front and rear axle while continuously adjusting the ratio to suit the changing road conditions. Drivers who pair the xDrive capabilities with all-season run-flat tires can expect to receive even more weather-dominating traction! This is especially important for drivers throughout New York State and the Capital Region who face wintery conditions during the colder months.
X5 Technology
Technology is an increasing necessity for many drivers, and for those who choose the 2018 BMW X5 they can have the ultimate technology at their fingertips. With iDrive 6.0 you can navigate to your destination with an intuitive interface equipped with "natural language understanding". This capability means you can simply say where you want to go, choose a radio station, and so much more, the vehicle takes care of the rest for you. An option that many drivers decide is a "must" on their checklist is wireless charging and WiFi Hotspot. The optional charging pocket in the console allows for wireless charging for compatible smartphones. The onboard WiFi Hotspot allows your passengers to stay connected to the internet with ease.
With the sleek, luxurious packaging BMW owners have come to know and love, the
BMW X5
is the ideal option for drivers who require more space and terrain combating capabilities. To learn more about the diversity of the 2018 BMW X5 and to schedule a test drive,
contact our experts
today!